The search for the best budget boxing gloves is quite tricky. Many assume that if a glove is priced low, it must be a bad quality glove. But it is not the case. In the early days, there were few manufacturers and demanded higher quality.
Today, due to the rising competition, many trusted brands are offering good quality gloves with all required features without breaking your bank. Although they cannot be compared with high-end boxing gloves like Winning or Cleto Reyes which are discussed in detail in our Best Boxing gloves 2022, the low-priced gloves are still good enough to stay longer and satisfy your usage needs.
Our Top Picks
High-End
VENUM CHALLENGER 2.0
Budget Friendly
SANABUL ESSENTIAL
BEST BUDGET BOXING GLOVES
Buying the best budget boxing glove is not an easy task.  Many companies are offering fairly priced boxing gloves that have a decent look, but most of them either break down after few uses or are not protective enough resulting in hurting your knuckles and wrists. There is an old saying, "When it comes to buying something: you can either pick 'cheap' or 'quality' but not both". However, it is not always true and we are here to prove it.
We understand that not everyone can afford expensive gloves especially beginners who should not burden their pockets in their early learning phase. Luckily, there are many combat sports brands that do not compromise on quality and performance even when they offer low-budget gloves.
We have solved your problem and shortlisted the top ten gloves that exude quality, comfort, fit and protection without spending too much. The important specifications of each glove along with its pros and cons are mentioned below for your convenience.  You can thank us later!
| Boxing Gloves | Ratings | Price |
| --- | --- | --- |
| Sanabul Essential Gel Boxing Gloves | ⭐⭐⭐⭐⭐ | |
| Venum Challenger 2.0 Boxing Gloves | ⭐⭐⭐⭐⭐ | |
| Hawk Boxing Gloves | ⭐⭐⭐⭐⭐ | |
| RDX F7 Ego Boxing Gloves | ⭐⭐⭐⭐⭐ | |
| Title Pro Style Leather Training Gloves 3.0 | ⭐⭐⭐⭐⭐ | |
| Trideer Pro grade Boxing Gloves | ⭐⭐⭐⭐⭐ | |
| Everlast Pro Style Training Gloves | ⭐⭐⭐⭐⭐ | |
| Ringside Apex Bag Gloves | ⭐⭐⭐⭐ | |
| Venum Contender Boxing Gloves | ⭐⭐⭐⭐⭐ | |
| ProForce Leatherette Boxing Gloves with White Palm | ⭐⭐⭐⭐ | |
Since its origin in 2014, Sanabul is making high-quality gear at very affordable prices to attract more customers and enhance their Sanabul family.
Sanabul Essential Gel Boxing gloves are truly Best Budget Boxing Gloves because they not only look great but also perform extremely well without breaking your budget.
Pros
Performance Engineered leather material
Longitudinal Arch design aligns to hands' natural curve
Gel-infused foam offers comfort and protection
Exceptional Fit
Versatile
Breathable
Cons
Requires time to break-in
Key Features
The soft and sleek performance engineered leather is easy to clean, resulting in a prolonged life span.
Longitudinal Arch Design aligns with your hands' natural curve and allows a natural fist, thus minimizing the chances of injuries.
Some may find the gloves a bit tight at first, but this goes away in a while.
The gel-infused foam gives additional comfort and protection and diffuses the impact of intense punching.
With the Hook and Loop closure system, you can put the gloves on or off easily. It also gives a secure and no-slip fit.
The integration of mesh palm into the glove keeps the hands ventilated and reduces odor build-up.
It has an entirely closed thumb, which adds to the comfort.
It is versatile and can be used for various training types including sparring and heavy bag.
Size range from 8 oz to 16 oz.
Venum is a very popular brand when it comes to affordable high-quality boxing gloves.
Handmade in Thailand, their Challenger 2.0 feature what other gloves charge hell for. They combine comfort, protection and durability to give you the best possible inexpensive gloves on the market.
Pros
Clean and smart design
Great shock-absorption
Added elastic with Velcro for a better fit
Lightweight
Sweat less and odor-free
Good for heavy training
Breathable
Key Features
The gloves are made up of Polyurethane leather, which is very smooth and requires less maintenance. The stitching is also close-knit.
It has triple-layered inner foam, which offers comfort, wrist protection and ultimate shock absorption.
The wrist enclosure is built with a combination of elastic and Velcro, allowing you to have a snug fit. It also eases the wearing and removing of the gloves.
The mesh palm allows ventilation to help keep your hands dry.
The thumb compartment is attached to the main body, which reduces the chance of injury from possibly overstretching your thumb while punching.
Available in 6 colors and various sizes to match individual styles.
Perfect for the beginner to advanced users.
3.  Hawk Boxing Gloves –

(Great for boxing pad and heavy bag workout)
Hawk is a very trusted name when it comes to best budget boxing gloves due to its ergonomic features, comfort, protection,
and durability that are remarkable against its affordable value.
Pros
Easy to maintain synthetic exterior
Gel-infused multi-layer "V-impact" technology
Added padding and support around the wrist
Minimizes sweat and odor build-up
Key Features
The exterior is durable synthetic leather which is easy to maintain.
The introduction of gel-infused multi-layer "V-impact" technology makes the gloves very secure and increases their life. Extra-thick Supremo-Shock foam is added around the wrist and knuckles for added safety.
The glove is smartly designed in a way that the foam that protects the hand is not directly connected to the foam that protects the wrist. It gives a more anatomical fit and one area has less impact on the other area.
The thumb is directly connected to the glove which is a feature of many top boxing gloves. It helps you maintain a proper striking position for punching the bag.
It has a waterproof coated lining with added pinholes that keep the glove ventilated and odor-free.
Hook and Loop closure is secured with a piece of Velcro for a snug fit and easy take on / off.
These are all-purpose gloves and can be used for all training types.
Two colors available in 5 different sizes and one year warranty
RDX sport is a very economical brand and was established in 1999 to fight against the combat sports brands burdening the common man with their expensive gears.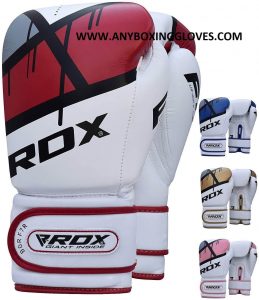 F7 Ego gloves are their remarkable production, which offers great quality and performance for the money they come in.
Pros
MayaHide leather construction
Quadro-Dome technology provides excellent protection
Quick EZ closure allows a snug fit and flexible wrist movement
Ventilated
Cons
Less ventilation around the fingers and thumb
Key Features
The hand-stitched Maya Hide leather construction is sturdy enough to last longer.
The inner material is very comfortable and smooth.
RDX innovative Quadro-Dome technology, with thick Tri-slab Shell-Shock gel padding, is far too protective than the conventional layered-foam padding and allows a natural fist and stable wrists.
The gloves are fairly padded over the knuckles, giving a sleek look to the gloves.
The wrist has a fair amount of support through the extra-long Quick EZ Hook and Loop closure which is easy to adjust.
P.P technology embedded perforated holes in the palm keep the hands dry and the gloves odor-less. However, few users complaint about less ventilation around the fingers and thumb.
The gloves are available in sizes 8oz to 16oz.
Since its origin in 1998, Title Boxing has been offering best budget boxing gloves with minimalistic looks but excellent features and top-notch quality. Their Pro Style Leather gloves 3.0 are the re-created version of Title's signature Pro Style Leather Training gloves with added features.
Pro Style 3.0 is the holy grail of low-cost gloves and is very reasonably priced considering it has full-grain leather construction. Even though they are not extremely professional gloves by any stretch but are very affordable and great for basic training.
Pros
Durable Full-grain leather
Extremely comfortable and cushioned
High wrist support
Excellent Form-fitting
Can be used for various training types
Cons
Fewer complaints about the fitting
Key Features
The authentic Full-grain leather construction is super sturdy and durable.
Gloves are incredibly satisfying in terms of cushioning and comfort.
Multi-layer high and low-density foams offer demanded coverage and impact dispersion.
Wraparound two-ply wrist strap with hook and loop closure gives a secure fit and wrist stability.
Satin inner lining wicks away the sweat and keeps gloves dry.
Considering the low price, the quality of the material is great and lasts for a relatively long time.
It is an excellent choice for beginners to intermediate-level boxers opting for the heavy bag, sparring, pad work, or mitt drill.
It is available in four solid colors without any fancy detailing, in sizes ranging from 8 oz to 16 oz.
Trideer is a very devoted brand, which prioritizes customer feedback and continuously evolves itself. Its Pro Grade Boxing Glove is the Best Budget Boxing Glove if you are looking for comfort and best fit without burdening your pocket.
The brand is so sure of its glove's quality and performance that it offers a 30-days money-back guarantee if you are not satisfied.
Pros
Faux leather offers durability and easy maintenance
Strong wrist support
Velcro enclosure for a snug fit
Sweat-wicking liner
30 day money-back guarantee
Key Features
The gloves have durable and easy-to-maintain synthetic faux leather construction with a semi-gloss finish.
The multi-density foam is very secure and diffuses the punching impact effectively. It also gives protection to your partner in case of sparring.
Velcro strap gives a snug fit and is worn or undone in the blink of an eye.
The hand compartment is ergonomically built to allow a proper fist.
The enclosed thumb design saves your thumb from possible injuries and keeps it in place.
The breathable mesh keeps hands cool and firm.
They come in varied colors in 8oz to 16oz sizes.
Headquartered in New York, Everlast has been ruling the boxing industry for more than 90 years.
Everlast Pro Style Training Gloves are specially designed for beginners and are quite economical.
Pros
Durable synthetic leather construction
Thumblok technology makes it more secure
EverFresh treatment maximizes airflow
Enough protection
Snug fit offers more grip
Cons
Thumblok feature sometimes makes it difficult to unwrap the velcro
Not suitable for intense use
Key Features
Pro-style has a classic look and synthetic leather exterior.
The double-layer padding is quite secure and aligns with the natural hand shape.
The thumlok feature keeps the thumb in the right position and reduces the chances of injuries.
The EverFresh technology regulates the heat and keeps the hands cool and bacteria-free.
A hook and loop closure system secures the wrists and is easy to adjust.
Ideal for light sparring, bag workouts, and mitt work.
Sizes range from 8 oz to 16 oz.
Ringside is a go-to brand if you are looking for high-quality Best Budget Boxing Gloves.
Their Apex Bag Gloves are very lightweight and appropriately padded to boost your performance. They are a preferred choice if you are training with a heavy bag or speed bag.
Pros
Easy to maintain, Durable PU leather
IMF padding adds security
Natural fist alignment
Ventilated
Attached thumb
Easy to take on or off
No-slip fit
Cons
Sizing may run small for big hands
Key Features
Textured PU leather exterior is long-lasting and offers easy cleanliness.
The introduction of Injected Molded foam (IMF) technology in the padding makes it extremely secure for your knuckles and hands and offers unbeatable shock absorption.
Smooth inner lining is highly comfortable.
The curvature of the hand compartment supports natural hand position which facilitates striking accuracy.
The fully attached thumb offers safety.
Ventilation holes and mesh palmss keep the gloves sweat-free while the moisture-wicking lining reduces any bacterial growth.
Full hook and loop closure takes no time to put on / off and keeps the wrists aligned and hands firm. Full wraparound feature gives a no-slip fit.
The gloves enhance speed and power because of their lightweight.
Comes in s, m, l, xl, sizes in a variety of colors and styles
Venum is famous for its low to mid-range pocket-friendly boxing gloves which cater to all different training requirements.
The Contender boxing gloves are their cheapest and favorable choice if you are into light boxing, sparring, bag hitting or fitness workouts.
Pros
Durable synthetic leather
Dense, shock-absorbing padding
Secure knuckles, wrist and thumb
Better striking performance
A snug fit
Versatile
Key Features
The gloves have a premium synthetic leather exterior which is quite long-lasting.
The triple-density foam padding is intelligently distributed, highly shock-absorbent and shields your knuckles well.
The glove is also likely to less injure your sparring partner as compared to many other gloves of this price range.
Large wraparound Velcro wrist straps are very time-saving and give excellent wrist support with a snug fit.
The curved anatomical shape of the glove is very convenient and allows a natural fist.
The attached thumb reduces the chances of thumb bending or twisting.
The glove has more than twelve color options.
ProForce is the flagship brand of AWMA, which is one of the leading providers of combat sports equipment since 1972.
Their ergonomically designed Leatherette boxing gloves with white palms are our pick for Best Budget Boxing Gloves because they are lightweight, multi-purpose, and give a snug fit. The customizable feature makes them a favorite of many boxers as they can reflect their individuality and style through their gloves.
Pros
Synthetic leather with double seam
Pre-curved form with a flex grip palm
Ventilated and bacteria-free
Thumb-Lock feature
Lightweight
Multi-purpose
Customizable
Cons
Durability issues faced by few users
Key Features
High-quality synthetic leather exterior with double and persistent seams promises durability and resilience.
Its Pre-curved form-fit design along with a tight grip palm secures your hands and wrists.
The foam core with cotton lining makes the punching experience very comfortable.
Ultra cuff wrist strap with hook and loop closure saves your wearing time and gives a snug fit to keep the wrists in place.
The Thumb-lock feature keeps the thumb aligned and avoids any injuries.
The vent holes maximize airflow making your gloves sweat and odor-free.
They are multi-purpose and can be used for boxing, martial arts, cardio, and other fitness workouts.
Customizable options include custom gym logos, fighter names, custom color schemes, and complete custom designs.
Available in a wide size range i.e., 8oz – 24 oz
FAQ's
Q1. How can we determine the life of a Boxing Glove?
We determine the life of a glove by its material, craftsmanship, and personal care.
Q2. Which material promises the longevity of a glove?
Genuine Leather is the preferred choice of many boxers because it is very durable and flexible and is more affordable than full-grain leather. However, it requires regular cleaning to extend the life of the gloves.
Q3. Which gloves are better, Hand-made, or Mass Produced?
Mass Produced gloves are made in bulk in a short amount of time, using machinery to cut the cost but usually, the quality is sacrificed.
Hands-made gloves are made in limited quantity with exquisite craftsmanship by a handful of skilled people to have the highest quality products with the best finish.
Q4. What do I need to buy for bag work or cardio kickboxing?
Boxing does not require a lot of gear. A good quality, comfortable, snug fit glove with 2-3 hand wraps is enough for bag work and fitness classes. Comfortable clothing and boxing shoes are optional.
Q5. How can I reduce the smell of my glove?
A few important measures are:
Always air-dry your gloves after every use.
Do not leave them wet in a gym bag for long.
Use hand wraps so that they absorb maximum sweat and can be washed later.
Use paper towels or moisture-absorbent deodorizers to dry out your gloves.
Q6. Are cheap boxing gloves worth it?
Well, that completely depends on what your needs are. If you are training for an amateur prize fight, then there are gloves that are specifically made to provide some protection for your knuckles.
Q7. What is the price for boxing gloves?
This depends largely on what you are looking for, but it can range anywhere from $20 to $300.
Things to consider before buying the best budget boxing gloves 
Following is all the information you will need when buying a low-cost boxing glove without compromising on the quality and specifications.
Brand
Always look for a well-reputed brand as an established brand will never compromise its name and quality even when they manufacture economical gloves.
Quality
First, you need to understand that a cheap glove cannot be compared with a top-notch glove in material and construction. The manufactures cut the cost of the gloves by using artificial or engineered leather which has its own shining features but is not as durable as the original one. However, many brands have used authentic leather in their low-budget gloves which is commendable.
A Best Budget Boxing Glove should also have durable stitching and should not come apart after a few uses. The inner lining should be soft and moisture-resistant. The palm should have a breathable material to avoid bacterial growth.
Protection
The right glove offers comfort and safety. The glove should have enough padding as per your training requirement to avoid any hand, knuckles, or wrist injuries. The cuffs should be long enough to support the wrist with tight-fitting closure. The attached thumb is also important to avoid bending or twisting of the thumb.
Size and Weight
Size is a huge factor in choosing gloves. Always choose gloves that feel like a natural extension of your hand. Gloves are available in a wide range of sizes. Select the size that fits snugly without blocking the flow of blood.
Also, a bigger size means more padding. So, keep your training purpose in mind and select a size that is fit and has enough padding to protect you.
Final Thought
If you don't want to rip off your pocket and are searching for Best Budget Boxing Gloves, we have listed quite impressive Boxing Gloves at affordable prices for you. Buying a low-cost glove is quite intricate as very few succeed in getting desired quality gloves while others usually have dust. Please seek help from our buying guide and select the best one for you. If you are an amateur, you can also check our detailed Buying Guide in our other review of Best Boxing Gloves for Beginners. Never compromise on the quality and protection a glove offers for a sake of a few dollars. Spend less but spend wisely.