Choosing the Best Boxing gloves for Heavy bag is an essential task when training with heavy or speed bags. There are various types of boxing gloves in the market, making it very hard to make the right decision. There are different glove specifications for different training types. If you are one of those people who use any random glove for heavy bag training,
Busted!
You are in trouble. You are exposing your hands, knuckles, and wrists to sprains and injuries due to the impact of heavy bag punching. It is imperative to understand that competition gloves are different than training gloves. Similarly, bag gloves cannot be used for sparring because they have less cushioning and flexibility.
Our Top Picks
Best Boxing Gloves for Heavy Bag
Boxing is an aggressive sport that has a lot of benefits. A great alternative to boxing is a heavy bag which is a larger, cylindrical bag, used for practicing powerful body punches for boxing and other combat sports training. In the past decade, boxing has also emerged as a new fitness tool, and training with heavy bags and mitts is a part of it. Punching bags deliver a great experience of the benefits of boxing without being actually in danger.
They mimic the weight of a person while cushioning the blow of hard punches. Many boxing gyms and box-fit studios have installed heavy or speed bags to improve your fitness and enhance your power. Heavy bags are quite versatile and generally pretty portable, allowing people to incorporate them even into their homes.
While hitting the punching bag, hands are subjected to a high amount of force and damage. Therefore, heavy bag training requires specific training equipment including gloves that can bear heavy punching and still provide you the comfort and protection you need. Heavy bag gloves usually have less padding than sparring gloves but the padding is denser enough to protect your hands and knuckles while training.
However, the denser padding makes these gloves a bit heavier. Bag gloves typically feature a Velcro closure for easy on and off. These gloves are specifically made to withstand frequent impact from the sturdy surface of the bag.
Our recommendations for Best Boxing Gloves for Heavy Bag
If you want to train safely and learn the techniques right, you must invest in the right boxing gloves. We are glad that you have chosen the right platform to guide you in choosing the Best Boxing Glove for Heavy Bag. By making the right choice, you can safely improve your strength, endurance, and agility. Following are our top ten bag gloves with their key features and pros and cons supported with a detailed buying guide:
| Boxing Gloves | Ratings | Price |
| --- | --- | --- |
| Title Gel World Bag Gloves | ⭐⭐⭐⭐⭐ | |
| Ringside Apex Bag Gloves | ⭐⭐⭐⭐⭐ | |
| Hawk Boxing Gloves | ⭐⭐⭐⭐⭐ | |
| Rival D30 Intelli-Shock Bag Gloves | ⭐⭐⭐⭐⭐ | |
| Twins Special BGVL3 Boxing Gloves | ⭐⭐⭐⭐⭐ | |
| RDX F7 Ego Boxing Gloves | ⭐⭐⭐⭐⭐ | |
| Sanabul Essential Gel Boxing Gloves | ⭐⭐⭐⭐⭐ | |
| Hayabusa T3 Boxing Gloves | ⭐⭐⭐⭐ | |
| Everlast Neoprene Heavy Bag Gloves | ⭐⭐⭐⭐⭐ | |
| Revgear 10500 Pro Leather Training Gloves | ⭐⭐⭐⭐ | |
1.  Title Gel World Bag Gloves – (

Durable Leather & Great protection)
 Since its origin in 1998, Title Boxing has combined the traditional knowledge of combat sports with today's fastest-growing sport demands.
Title Gel World is one of the best boxing gloves for heavy bags due to its ergonomic features, comfort, protection, and durability. It is hard to find any deficiency or manufacturing issue in these gloves.
Pros
High-quality durable leather
Gel injected lining offers unmatched protection and shock-absorption
Exceptional fit
Easy to operate closure
Lightweight
Cons
A bit expensive
Not many color options
Key Features
 The original leather construction makes it crack-resistant and durable.
The multi-layer gel-infused foam padding gives maximum protection to your hands and knuckles and a snug fit. Hence, you can punch harder and better.
The hand compartment is very comfortable and cooling.
The wraparound adjustable wrist strap that comes with D-ring and hook-and-loop closure is easy to put on and doesn't lose up during long intense sessions.
The attached thumb prevents your thumb from slipping or getting injured.
They come in 4 different sizes including small, medium, large, and x-large.
Black, pink, and red are the three color options.
From the past thirty years, Ringside is known for its high-quality well-constructed products.
Their Apex Bag Gloves are highly rated gloves for beginners training with a heavy bag or speed bag. The ergonomic features, along with a wide color selection and affordable price make it one of the best boxing gloves for heavy bag.
Pros
Easy to maintain PU leather
IMF padding adds security
Natural fist alignment with pre-curved hand compartment
Ventilated with microbial protection
Attached thumb
Easy to take on or off
Fair price
Cons
Sizing issue for bigger hands
Key Features
Textured PU leather construction is easy to clean and long-lasting.
The introduction of Injected Molded foam (IMF) technology in the padding, in which the foam is directly injected to the glove by a machine, gives a snug fit and a new level of safekeeping of knuckles and hands with maximum-shock-absorption.
The pre-curved molded hand compartment supports natural hand and fist alignment when punching.
The fully attached thumb offers safety.
Ventilation holes and mesh palms keep the gloves sweat-free and moisture-wicking lining offers microbial protection against odor.
Full hook and loop closure keeps the wrists aligned and gives less hand fatigue. It also gives a no-slip fit and is easy to take on and off.
The gloves enhance speed and power because of their lightweight.
Comes in s, m, l, xl, sizes in a variety of colors and styles
3.  Hawk Boxing Gloves –

(Great for boxing pad and heavy bag workout)
Hawk is a well-known name of high-quality entry-level gloves at very reasonable prices.
These boxing gloves have a spectacular look and have all features of a great glove.
Pros
Easy to maintain the synthetic exterior
Gel-infused multi-layer "V-impact" technology
Added padding and support around the wrist
Waterproof Coating reduces sweat and odor build-up
Very affordable
Cons
Not as durable as top-notch gloves
Key Features
The exterior is durable synthetic leather.
 Many gloves look similar from the outside but what a glove uses for padding affects the comfort, fit, and shock-absorption ability of a glove. Hawk has introduced a gel-infused multi-layer "V-impact" technology. Extra-thick Supremo-Shock foam is added around the wrist and knuckles for added safety. The addition of gel to the foam increases the durability of the glove.
The glove is smartly designed in a way that the foam that protects the hand is not directly connected to the foam that protects the wrist. It gives a more anatomical fit and one area has less impact on the other area. Also, the thumb is directly connected to the glove which is a feature of many top boxing gloves. It helps you maintain a proper striking position for punching the bag.
It has a waterproof coated lining that keeps the glove ventilated and odor-free.
Hook and Loop closure is secured with a piece of Velcro for a snug fit and easy take on / off.
Rival has developed quite a trusted name in the boxing world in recent years. D30 Intelli-Shock Bag gloves are one of their most popular gloves and are rated among the best boxing gloves for heavy bag.
Although the quality and features they offer don't come at a low price, they are a preference of many professional boxers for bag training.
Pros
High-quality microfiber leather
D30 Intelligent Shock-absorption offers maximum protection, comfort, and durability
Exceptional fit
Can withstand long and intense bag use
Breathable and reduce odor
Key Features:
The stylish look and super microfiber construction of gloves will make you stand out in the crowd.
Its unique d30 intelligent shock absorption technology has intelligent molecules engineered with shock-absorbing material. At slow speeds, the molecules inside d3o are loose making it soft and flexible, whereas at high speeds the molecules bond together to become an incredible shock absorber.
Gloves come with Rival's special 15º angled cuff. The V-Strap Wrist-Lock System lets the user get a good hold over the glove and the reversing strap provides maximum fit and is easy to adjust.
The separate thumb design adds to the Rival's aesthetics and security.
Rival claims that the d30 glove absorbs 15% more energy than most Gel bag gloves and is 38% lighter than them.
The air control system gives enough cooling to the hands and keeps them sweat-free.
These bag gloves come in a variety of colors and are available in three sizes medium, large, and extra-large.
Registered in 1992, Twins Special is one of the biggest Thai manufacturers in Muay Thai and other combat sports. The brand can be seen in almost all boxing and Muay Thai gyms because of its authenticity, craftsmanship, protection, and durability.
Twins Special BGVL3 is their flagship glove and possesses all qualities the brand is known for. Forget about the bruises or sprains once you are wearing these gloves.
Pros
High-quality original leather and solid stitching
Extra padding
Excellent wrist support
Fit snugly
Elastic closure for easy wearing
Allow flexible movement
Mid-range price
Cons
Heavier look
Stiffness felt by few
Key Features
The detailed and exquisite craftsmanship can be seen in these gloves. The 100% original leather is sturdy and long-lasting and the stitching stays put no matter how hard you train.
Padding is three-layered, with a soft outer layer, a firm middle layer, and a pillow-like inner layer for the knuckles.
The thin gel padding on the palms gives extra comfort and protection and facilitates clinching.
Wider cuff and extra padding in the wrists enhance wrist support.
A high-quality velcro wrist fastener gives a tight fit and is easy to put on / off. It also keeps the hands in place.
The attached thumb makes it very secure.
Varied sizes and multiple color options are available
RDX has established itself as a leading British Combat sports and fitness brand with a customer base of over 200 million since its origin in 1999.
Its F7 Ego Boxing Gloves are very suitable for heavy bag punching as they are durable, secure, comfortable, breathable, and economical.
Pros
Maya Hide leather construction
Quadro-Dome technology provides excellent protection
Quick EZ closure allows a snug fit and flexible wrist movement
Ventilated
Reasonable price
Cons
L

ess ventilation around the fingers and thumb
Key Features
The glove's exterior is made with hand-stitched Maya Hide leather, which is actually a term RDX used for artificial PU leather. The construction is tough enough to last longer.
The inner material is very comfortable and has a smooth feel on the skin.
RDX innovative Quadro-Dome technology, with thick Tri-slab Shell-Shock gel triple padding, is far too protective than the conventional layered-foam padding and assists in natural alignment when striking, and maintains stable wrist and thumb position.
The gloves are well-padded over the knuckles, yet do not look very bulky.
The wrist has a fair amount of support through the extra-long Quick EZ Hook and Loop closure. The strap allows a comfortable non-slip fit and better wrist movement.
S.P.P technology provides natural airflow while you train. Perforated holes in the palm keep the hands dry and the gloves odor-less. However, few users feel that there is less ventilation around the fingers and thumb.
Sanabul brand is very famous in the combat sports world for its incredibly affordable yet performance-delivering gears.
Its Essential Gel Gloves are a great choice and truly one of the best boxing gloves for heavy bags. Well-protected, ergonomically designed, comfortable, and budget-friendly qualities make them a go-to gear.
Pros
Performance Engineered leather material
Longitudinal Arch design aligns to hands' natural curve
Gel-infused foam offers comfort and protection
Exceptional fit
Breathable
Very reasonable price
Key Features
Performance Engineered leather material makes it easier to clean and the gloves have a prolonged life span.
Longitudinal Arch Design aligns with your hands' natural curve and allows a natural fist, thus minimizing the chances of injuries.
The gel-infused foam gives additional comfort and protection and diffuses the impact of intense punching.
With the Hook and Loop closure system, you can put the gloves on or off easily. It also gives a secure and no-slip fit.
The integration of mesh palm into the glove keeps the hands ventilated and reduces odor build-up.
Sizes from 8 oz to 16 oz
Hayabusa is a famous brand of combat sports equipment and offers great quality, protection and aesthetics.
Their T3 gloves are one of the best boxing gloves for heavy bags. Even though the gloves are quite expensive, they live up to the expectations and you will not regret buying them.
Pros
High-quality durable leather
Extra 4-layer foam padding
Exceptional fit
Breathable and reduce odor
No break-in required
Cons
Not very lightweight
A bit expensive
Key Features
Handcrafted with top of the line microfiber leather, which is durable and crack-resistant
Made with 4 layer foam, it easily breaks in and the user gets enough padding for hand and knuckle protection.
The four interlocking splints at the back of the hand provide excellent wrist support.
For a secured fit, the gloves sport a Dual-X closure system, which keeps the hands in place.
Thumb has a unique fabric construction to wipe away sweat.
The inner lining has an anti-microbial feature to reduce odor and bacteria growth and keep your hands dry.
These gloves come in 10, 12, 14, and 16 oz sizes, and are available in multiple colors.
Everlast is one of the oldest and most authentic manufacturers of boxing, MMA, and other fitness equipment since its origin in 1910.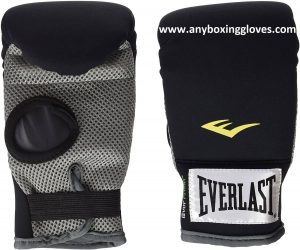 They have produced many top-notch gloves in the market including the Everlast Neoprene gloves, which are budget-friendly and are ranked among the best boxing gloves for heavy bag.
Pros
High-grade neoprene material
Thick padding for protection
Pre-curved foam allows natural fist
Lightweight
Can be hand-washed
Reduces odor and bacteria growth
Reasonable price
Cons
They only come in one color
Not meant for intense training
Key Features
These gloves have high-grade Neoprene construction which promises durability and functionality.
There is enough padding to shield your hands and protect against the impact.
Even with the dense padding, these gloves are very lightweight, which enhances the punching speed and power.
The padded palm grip and pre-curved foam allow a naturally comfortable fist.
Instead of Velcro or lace-up closure, they have an elastic wrist strap, which is easy to slide on and keeps the wrists firm. However, the grip may get loose during high-impact punching.
The moisture-repellent inner lining keeps the hands cool and dry. Also, the gloves have less odor build-up and can be hand-washed.
Revgear is an American brand, which has been in the game since 1996. The company produces a vast variety of fighting equipment but they are worldwide known for their boxing gloves.
Revgear pro-leather training gloves are one of their famous gloves and are very protective when it comes to heavy bag training.
Pros
Durable leather construction
5-layer padding provides maximum comfort and protection
Breathable Vinyl palm
Thumb protection
Velcro closure allows easy fit and removal
Affordable
Key Features
The exterior has genuine leather construction. The palm area is made up of vinyl which is a clever way to save some money as this part doesn't get much abuse. The ventilated palm keeps the hands dry.
They are made with a five-layer padding system, which protects your fist, wrist, hands, and knuckles. The shock-dispersion ability makes them more secure and you can enjoy the power of your punches with the lowest impact.
The gloves are easy to slide in because of the Velcro closure, which gives a snug fit and protection to the wrist.
The hand compartment is big and well protected.
The attached thumb secures your thumb from injuries.
FAQ's
Q1. Is it important to wear boxing gloves for Heavy Bag Training?
Few people only wear hand wraps and do not use boxing gloves while hitting the heavy bag. However, it may cause injuries if the punching form goes incorrect or if you are an amateur. We recommend that good quality and decently padded heavy bag gloves should be used to keep your hands, knuckles, and wrists safe.
Q2. Which types of gloves are suitable for the Heavy Bag?
Many people make the mistake of using any random glove for heavy bag training. Bag gloves should be used for training with the heavy bag as they have the right quality and quantity of padding required to keep your hands safe from the punching impact.
Q3. What Size of Boxing Gloves is most suitable for Heavy Bag?
Rightly padded 10-12 oz gloves are the most popular sizes for heavy bag/pad workouts. However, depending on your hand size and body weight, you can use even 14 – 16 oz gloves.
Q4. Do laced up gloves provide a better enclosure than Velcro?
Laced-up gloves do offer great security and fit but they require external help to take off / on. Whereas, Velcro enclosure is very convenient and takes no time to wear or remove and there is no dependency on others.
Q5. What is the difference between boxing gloves and MMA gloves?
Boxing gloves and MMA gloves are designed with completely different applications in mind. The boxing glove is all covered to provide maximum protection to the hands and wrists while the MMA glove is fingerless so that the fighter can apply different techniques like striking and grappling.
Another difference is the amount of padding each has to offer. Boxing gloves provide far more padding than MMA gloves, which are lighter and less padded.
Q6. Are 10oz gloves good for heavy bags?
Yes, 10oz gloves are a good size for heavy bags.
Q7. Is it better to box with heavier gloves?
No, heavy gloves weigh down your punches so it's important to use the appropriate weight as you train. You learn proper technique and hand speed with lighter gloves before graduating to those that are heavier.
Things to Consider Before

Buying best Boxing Gloves for heavy bag
The following factors are very important to consider while picking the best boxing glove for heavy bags. Please check our best boxing gloves for beginners for a detailed buying guide.
Glove Type
It is very important to choose the right type of glove that meets your training needs. We recommend bag gloves for heavy bag use as they have dense padding to protect your hands and knuckles from heavy bag punching.
Durability
Durability is very important in any boxing glove. Leather gloves are expensive than synthetic leather but they are long-lasting and can withstand heavy punching without wearing out. Also, look for gloves with strong stitching as they should not get loose and the inner lining of the glove should also stay put.
Size
Your body weight and the shape and size of your hands matter most when looking for the perfect fit. Since wrapping your hands is essential when training on a heavy bag for added protection, it is recommended to measure your hand size with wraps on.
Rightly padded 10-12 oz gloves are the most popular sizes for heavy bag/pad workouts. However, depending on your hand size and body weight, you can use even 14 – 16 oz gloves.
Material
Whether original leather or synthetic, the material of the gloves should be durable and can withstand years of abuse. Multiple layers of padding prolong the life of the gloves and also provide better protection and comfort to the hands. It is important that the padding is shock-absorbent and disperses the impact of heavy-hitting.
The inner lining should be breathable. The hands are sure to sweat during long punching sessions and if the inner mesh is not breathable and anti-microbial, then the moisture will be locked in, causing slipping of hands and bacteria growth causing the unbearable odor.
Wrist Support and Closure
Any closure is good if it gives sufficient wrist support and a tight fit. However, most trainees and amateur boxers prefer Velcro closure for heavy bag gloves because they offer a snug fit and do not require someone else to put them on/off.
Our two cents on Best Boxing Gloves for Heavy Bag
Besides being used as a productive workout tool in gyms, Punching bags are also a great source of learning and practicing boxing techniques without hurting anyone. Using a high-quality boxing glove for training is very important for your hands, knuckles and wrists. Your hands are likely to bear the punching impact and get severely injured if you are a hard puncher and not using a thick padded, comfortable, extremely protective, exceptionally fit and high-quality glove while punching a heavy bag.
Although there are many all-purpose training gloves in the market, which claim to be suitable for heavy bag punching, we recommend you to buy one of the above-mentioned gloves, which we have shortlisted after thorough research and are specially designed for punching bags. We hope that we have somewhat helped you better understand your requirement and guided you in choosing the best boxing glove for heavy bag that suits your preferences.