Welcome to the world of boxing. If you are looking for best boxing gloves for beginners, you must be lost among the wide variety of boxing gloves offered by various brands. In case you might be asking yourself questions like Which brand is best? What specifications to look out for? Which glove size will suit you? What is Velcro or Lace-up? and so on, our website has answers to all your questions.
Keeping your concerns in mind, we have listed down the best gloves for starters like you. Furthermore, we have a buying guide in the end, which familiarizes you with all basic boxing terms and needs.
Our Top Picks
High-End
Anthem Athletics Strombringer II
Budget Friendly
Revgear Elite
Best Boxing Gloves for Beginners
Boxing is one of the greatest sports in the world and boxing gloves are an important part of it. Whether you are starting a workout or joining the ring, boxing gloves are the essential item. The best boxing glove is well fitted, fully protective, comfortable, breathable and most of all, durable.
When starting up boxing, an amateur is not familiar with the well-reputed manufacturing brands, top-notch gloves that will suit their needs, different tips that help the right purchase, etc.  There are so many things that one needs to consider while buying a glove, such as size, material, protection, comfort, closure options, price range and much more.
With having so many options in the market, choosing right can certainly feel overwhelming. To facilitate you, we have taken this entire burden on our shoulders and provided you with the best boxing gloves for a beginner.  The recommendations will not only save your time but will help you spend money buying exactly what you need for your training. The top-ranked gloves are:
| Boxing Gloves | Ratings | Price |
| --- | --- | --- |
| Venum Giant 3.0 | ⭐⭐⭐⭐⭐ | |
| Revgear Elite Leather | ⭐⭐⭐⭐⭐ | |
| Fairtex Microfibre  | ⭐⭐⭐⭐⭐ | |
| Venum Challenger 2.0 | ⭐⭐⭐⭐⭐ | |
| Hayabusa S4 | ⭐⭐⭐⭐⭐ | |
| Everlast Elite Pro Style | ⭐⭐⭐⭐⭐ | |
| Ringside Apex | ⭐⭐⭐⭐ | |
| Sanabul Essential | ⭐⭐⭐⭐⭐ | |
| Pro Impact | ⭐⭐⭐⭐⭐ | |
| RDX Elite | ⭐⭐⭐⭐⭐ | |
| Venum Impact | ⭐⭐⭐⭐ | |
| Leone 1947 Muay Thai | ⭐⭐⭐⭐ | |
| Anthem Athletics STORMBRINGER II  | ⭐⭐⭐⭐ | |
Sanabul is a trusted name in the boxing industry. You can rely on this brand to get high-quality and extremely comfortable gloves designed exquisitely. 
Their Essential Gel gloves are your go-to gloves. Whether you are into heavy bags or sparring, these gloves give you the ultimate comfort and protection.
Pros
Affordable
Longitudinal Arch Design for a better fit
Gel-infused foam offers Impact distribution
Comfortable
Easy to put on and put off
Breathable
Suitable for both heavy bag and sparring
Cons
Insufficient padding for heavy hitters
A bit tight for few
Key Features
Performance engineered leather construction makes the gloves easy to maintain and durable. The gloves look new even after several months' use.
The gel-infused foam lining gives extreme comfort and is highly protective. It has excellent shock absorption and divides the impact evenly.
The mesh palms protect your hand from heat and make it very breathable.
The most noteworthy feature is its unique longitudinal arch design which fits your hands' natural curve very well. Having a perfect fit and proper hand position helps you avoid a lot of injuries. Some may find the gloves a bit tight at first, but this goes away in a while.
It has an entirely closed thumb, which adds to the comfort.
These gloves have a Secure Velcro Closure System to ensure a secure fit while practicing, but you are also able to put on and take off the gloves instantly without any external help.
Conclusion
These gloves are highly recommended. Being offered at an extremely reasonable price, they are loaded with all features desired by a beginner. Durability, Exceptional fit, comfortable and gel-infused padding are a few of its highly appreciated features.  It is safe to say that this is a glove that you will love.
Venum is a very reputable brand that implements some of the old Thai-style construction into a more modern visual style.
Their Venum Challenger 2.0 boxing gloves are the best boxing gloves for beginners (including a kid) as they are incredibly lightweight and reasonably priced.
Pros
Clean and smart design
Great shock-absorption
Added elastic with Velcro for a better fit
Lightweight
Good for heavy training
Reasonable price
Breathable
Cons
Not  very durable because of PU leather construction
Fundamental gloves, better for a thirteen-year-old
Key Features
The gloves are made up of Polyurethane leather, which is very smooth and requires less maintenance. However, it won't last as long as genuine leather would. This can be ignored considering the vast difference in prices of both.
The stitching is close-knit.
It has triple-layered inner foam, which offers comfort, wrist protection and ultimate shock absorption. Since the beginners practice a lot, the thick padding helps to withstand heavy punching without being injured.
It also has extended cuffs that enclose the wrists with a full wrist wrap hook.
The wrist enclosure is built with a combination of elastic and Velcro, allowing you to have a snug fit. It also eases the loading and removing of the gloves.
The mesh in the palm area allows ventilation to help keep your hands dry. You can train and fight for longer without having to dry off.
The thumb compartment is attached to the main body, which reduces the chance of injury from possibly overstretching your thumb while punching.
The gloves vary in length and size depending on your chosen weight but still protect your wrists as any entry-level professional gloves should.
Conclusion
The Venum Challenger 2.0's are good starter gloves designed for budget-conscious, heavy-hitter beginners. They feature what other gloves charge hell for, thus combining comfort, protection and durability to give you the best possible gloves on the market. They are equally suitable for kids and adults.
The Ringside brand is famous for providing very high-quality gloves embedded with new technologies. Their Apex Flash Sparring gloves are considered best boxing gloves for beginners with a beautiful look, thick padding, Velcro enclosure and a wide color selection at a low price.
They are in the business for the past thirty years offering different gears and training equipment at a very economical cost.
Pros
Durable and easy to maintain
IMF technology offers excellent protection
Breathable mesh palm
Shock-absorption
Wrap Around Hook & Loop Closure
Lightweight
Economical
Cons
IMF padding gets softer by time
Not for heavy training
Key Features
The Ringside Apex Flash Sparring gloves are aesthetically designed to have a long-lasting appearance, as the synthetic leather does not fade away even after multiple uses.
Ringside was the first to introduce the Injected Molded Foam (IMF) padding technology in its glove, which was later adopted by many other makers. IMF technology helps absorb the shock very well and diffuses the impact. No break-in period is required.
They also have a breathable mesh palm and anti-microbial inner lining. These features allow maximum ventilation, keeping the glove odorless and your hands dry and comfortable throughout the workout.
They are very comfortable to wear and their Velcro strap offers a snug fit, and is easy wearing and removing.
The thumb is not attached to the body and is instead connected through a fastener. Holes on the thumb compartment allow airflow and keep the thumb area dry and comfortable.
The Gloves are available in 10, 14, and 16 oz in sizes.
It has eight combinations of colors to choose from.
Besides sparring, it can also be used for mitt and bag work.
Conclusion
The Ringside Apex Flash Sparring gloves are one of the best boxing gloves for beginners. They are not only stylish but offer easy maintenance, IMF padding protection, shock absorption and Velcro for added support and overall convenience. These gloves may not last for a lifetime, but provide excellent quality at an average price.
4.  RDX Elite Boxing Gloves –

(For better protection & great wrist support)
Hailing from the UK, RDX is a world-famous company that has produced a variety of quality products for the boxing market. Every gear is made with particular attention to detail. One of their best products is the RDX T1 Elite Boxing Gloves.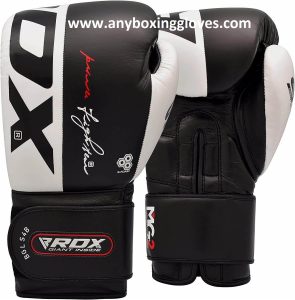 These gloves are made up of original leather and offer all essential features. They are incredibly user-friendly and stay with you till last. For an amateur like you, these gloves are a good start as they are durable, comfortable, can be used for all training types and do not burden your pocket much.
Pros
Authentic Cowhide leather lasts longer
Suitable for all training types
Better protection and effective shock dispersion
Amazing wrist support
No break-in period
Cons
Price is a bit on the higher side
Key Features
It is made of authentic full-grain cowhide leather which is durable. It does not have a very flashy look, but the quality speaks volumes.
Double stitching of the gloves gives extra durability and hold of the padding
The presence of the Shell Shock Gel Equilibrium Sheet provides additional padding and maximum shock absorption. Your knuckles are well protected, and your hands are shielded from punches of all intensity with such thick padding.
Quick EZ hook and loop closure are easy to adjust and provide tight fitting. The excellent wrist support helps you in punching better and harder.
Nylon mesh palms absorb the moisture and keep the hands cool and dry
The gloves do not require a break-in period, so you can enjoy punching right from the beginning.
It is suitable for all training types which is very cost-effective for a beginner.
Conclusion
Overall, these gloves are a good investment for beginners. The original cowhide leather, gel padding, shock absorption and wrist support at a medium-range price is a go-getter. It gives good performance for all training types, and its tough leather stays with you for many seasons.
Fairtex was established four decades ago in Thailand, and since then, it has rapidly grown. BGV is their most popular series having more than ten different boxing gloves.
Their BGV14 glove is their best boxing glove for beginners looking for stylish, durable, well-protective and high-performing gear. Their easy maintenance and light weight make them a preference for entry-level kids. These gloves are an all-rounder and can be used for bag hitting, mitt drills and sparring.
Pros
Customizable finish
High-quality microfiber which is soft and easy to maintain
Suitable for all training types
No break-in period required
Secure wrist closure
Lightweight
Cons
A bit expensive
Not made for heavy use
Key Features
The odorless, microfiber fabric on the exterior provides a long-lasting quality of leather. It is effortless to maintain and faces less damage. Due to its softness, it does not irritate your skin and is equally suitable for your sparring partners' safety.
These gloves have three-layer foam padding on the palm and knuckle area for maximum protection and effectively disperse the impact from each strike. The padding is also soft and stretches better. So it does not require a more extended break-in period and improves your grappling and clinching. However, the gloves should not be put to consistent heavy-duty use as it may shorten their life.
BGV14 features a larger wrist closure which provides more wrist support and stabilization. A tightly fit hand compartment offers a snug fit for better punching.
The thumb compartment has a curve that helps to make a fist easier and provides less muscle tension.
BGV14 gloves can be customized in different attractive finishes. They are available in various colors, including Red, Blue, Pink, Yellow, White, Grey, and Black.
They come in a variety of sizes, including 10oz, 12oz, 14oz, or 16oz.
Conclusion
BGV14 is the flagship product of Fairtex and delivers a durable and comfortable experience. On top of that, they are aesthetically pleasing and customizable. The microfiber exterior is soft yet sturdy and the gloves are ready to deliver as soon as you wear them. Considering its medium price range, it is not a bad investment if you do not intend to use it for heavy-hitting.
Founded by an Indian named Atul Mahajan in 2010, Pro Impact has grown tremendously over the years. Creating new products and improving the existing ones to satisfy their customers' needs is their priority.
This glove is made of PU leather and offers you a high level of protection and comfort. Offered at a reasonable cost, these gloves are sure to withstand the test of time and are one of the best boxing gloves for a beginner.
Pros
PU leather gives durability
Thick padding gives ultimate comfort and protection
Suitable for all training types
Shock-absorbent
Long cuffs provide full wrist support
Velcro closure for a snug fit
Affordable
Cons
Doesn't have other color options except for black
Few complaints about tight-fitting, and padding getting thin over time
Key Features
Pro impact glove comes in an ergonomically designed shape in black color.
The exterior is of high-quality Polyurethane (PU) leather which is very durable and stays for many seasons even with heavy training.
These Gloves have extended cuffs for additional wrist protection. They are easy to use, and the hook-and-loop closure makes it a good fit, and an easy adjustment for all hand sizes.
Embedded with triple-layer foam, the gloves give high protection against hard-hitting and massive impact.
The gloves feature an attached thumb, which makes them very flexible and comfortable.
They come in 12 oz, 14 oz and 16 oz sizes.
They can also be used for home workouts, mitt drills, kickboxing, Muay Thai, and other combat sports.
Conclusion
Made up of PU leather, these gloves are sturdy and durable and stay with you for many years. They are the best boxing gloves for beginners because of their comfort, thick padding, impact dispersion, and versatility. Above all, their price range is commendable.
Initially known as a specific MMA brand, Hayabusa has gradually uplifted its place in all types of combat sports. The aesthetically pleasing design and introduction of new technologies have ranked them among the few best brands of the boxing industry.
Their entry-level S4 gloves are no exception. The unique design, IMF padding, wrist support and economical price make them a hot choice for both teenagers and adults.
Pros
  Long-lasting
  IMF padding gives ultimate comfort and protection
 Curve construction
  Wipe away sweat thumb
  Velcro closure with  additional splint wrist support for tight-fitting
  Breathable
  Very reasonable price
Cons
Glove's size runs small for few
Key Features
Ergonomically Hayabusa S4 Boxing Gloves are similar to Hayabusa T3, but with a more basic built.
Made of premium synthetic leather, S4 gloves are built to beat and last longer.
The unique pre-curved interior aligns with the hand's natural shape, which provides the ultimate comfort and helps you form a fist when you train. Also, no break-in period is required.
Injection-molded foam padding protects your knuckles, in addition to a foam splint that supports your wrists to prevent awkward bends.
The nylon lining and breathable mesh palm keep the hands cool and dry even in high-intensity training.
The suede-like material on the thumb keeps the thumb dry and helps to wipe away sweat from your face.
Hook and Loop closure paired with additional splint wrist support provides a snug fit.
Comes in all sizes from 10 oz to 16 oz
Available in more than eight colors
Conclusion
The Hayabusa S4 boxing gloves are the best boxing gloves for beginners. The superior craftsmanship, firm hand placement, wrist support, breathability, and durability help you to start things off right.
Venum is a very reputable name in the world of combat sport. Having introduced several highly crafted, durable, and protective gloves in the market, the Venum Giant 3.0 is another enhanced version of previous Giant models.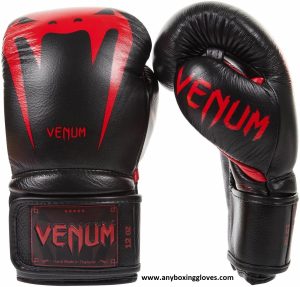 The improved version of mesh design used in the Venum Sharp model, extra padding, and moisture-absorbing inner lining makes it a favorite of many.
Pros
  Nappa leather
  Best for big hands
  Thick padding protection both for you and your partner
  Impact dispersion
  Extremely sweat-free
  Long cuffs give full wrist support
  Velcro closure for a snug fit
  Good for heavy training
Cons
  hard to break-in
  Middle-range price
Key Features
The Real Nappa leather construction guarantees durability and sustenance to heavy-duty.
As the name explains, these are big gloves with extra padding, and ample room inside. If you have big hands and you want a fit that avoids choking your hands, then this is the right choice.
These gloves have powerful shock absorption and lower the impact of heavy punches.
It has a moisture-wicking inner lining that keeps the hands cool, and dry. The gloves are incredibly sweat-absorbent and odor-free.
The triple-density foam improves the protection of your knuckles and thumbs. The extra pair of padding diffuses the impact. It also protects your training partner from injuries.
It comes with a long wrist wrap that keeps your hands aligned. The wide hook and loop closure is easy to adjust and give a tight fit.
The attached thumb prevents injuries to the thumb. Vent holes on the thumb aid in better airflow.
These gloves are available in 10, 12, 14, 16 oz.
Conclusion
The gloves are famous for their craftsmanship, size, quality, comfort, and performance, to name a few. They may be expensive for a starter, but they are worth every penny.
Revgear is Californian manufacture of a variety of fighting gears and specializes in boxing gloves.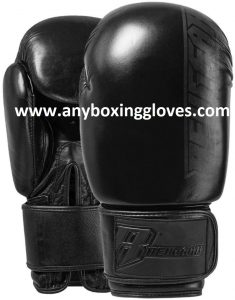 Their gloves stand out because of their quality as compared to other gloves of the same price range. It is great for entry-level participants that want to train harder and perform better.
Pros
  Genuine Softech leather
  Thick padding gives ultimate comfort and protection
  Suitable for all training types
  Water-resistant lining to prevent sweat
  Velcro closure for a snug fit
  Attached thumb
  Ventilated
  Middle-range price
Cons
  Sturdy leather may hurt your partner if sparring
  Not very lasting internal material
Key Features
Made from authentic Softech leather, these gloves have a pre-curved shape that requires no break-in.
Elite Glove has a unique design, unlike any other boxing glove. Its narrow profile allows you to punch through your opponent's guard with ease. The lightweight allows tighter, faster movements which make it one of the best boxing gloves for beginners.
It has RG-Ultra shock-absorbing padding, combined with an ergonomic hand pocket that fits perfectly all hand sizes. The high-density padding on the entire punching area offers full protection and comfort.
The palm opening allows airflow, which helps your hands to breathe, and they stay sweat-free because of the presence of a water-repellant inner lining.
The Ultra-Lock hook and loop closure provide full wrist support and a snug fit.
The attached leather thumb keeps your thumb and hand aligned in a natural fist shape.
It gives the best experience for all types of training, even for longer hours.
Conclusion
Revgear Elite Boxing Gloves are made up of authentic leather which promises durability and offers supreme knuckle protection and hand ventilation.
Anthem Athletics is a young brand based in the USA that creates high-performance equipment for combat sports and functional fitness.
Optimized for men, women and youth/kids, Anthem Stormbringer II gloves are favorites of many. Crafted with premium buffalo leather and triple density foam, Stormbringer is one of the best boxing gloves for beginners.
Pros
  Unique Buffalo leather
  Triple-density, high-impact foam
  Breathable mesh panel  Suitable for all training types
  Over 25 different color designs
  Reasonable price
Cons
Few complaints about tight-fitting during early sessions
  Not recommended for sparring
Key Features
The gloves are made from premium buffalo leather which is one of the most robust materials available. Stormbringer gloves are claimed by the manufacturer to be superior to different kinds of original and artificial leather.
The thick wrist straps feature well-balanced padding. Triple density PU foam possesses a significant shock-absorbing ability and provides excellent protection for knuckles.
Moisture-wicking lining keeps your hands dry.
The gloves may feel tight at first but they loosen over time.
These gloves are perfect for most of the training types, including heavy bag training and mitt work. However, they cannot hold on to sparring for very long.
Lots of standard and custom leather colors to choose from that uniquely matches your personality
Come in 12 oz, 14 oz and 16oz sizes
Conclusion
Given their buffalo leather construction, triple-density foam, versatility and performance, these gloves are not that expensive at all.
Needless to say, Venum is currently ruling the middle-range gloves market leaving behind its competitors. With Venum's excellent variety of quality gloves, ranging from $30 to $100 plus, they are a hot favorite of many professional boxers.
The Venum Impact is one of their best boxing gloves for beginners that facilitate comfortable and durable training with maximum protection. The manufacturer itself refers to them as "weapons of mass destruction" because they keep up very well with substantial training and longer sessions.
Pros
  Durable
 Extended cuffs for wrist protection
  Suitable for all training types and long sessions
  Excellent thumb protection
Key Features
Made up of 100% synthetic leather with a Nuuk finish, it is flexible and durable
Reinforced seams provide long-lasting quality.
Triple density foam diffuses the impact.
Longer cuffs with Velcro enclosure provide wrist protection and easy adjustment.
The integrated nylon mesh inset provides ultimate ventilation, keeping you cool and comfortable during your training.
Full attached thumbs provide better thumb protection.
Perfect for sparring or longer training sessions
Conclusion
The Venum Impact boxing gloves help you train harder and better. Triple density foam, impact resistance, extended cuff, ventilated mesh panel and attached thumb have been ergonomically designed to give you the best possible protection and comfort.
Leone 1947 is an Italian-based brand with more than seventy years of experience in the industry. These gloves live up to their reputation and are well crafted with high-quality leather.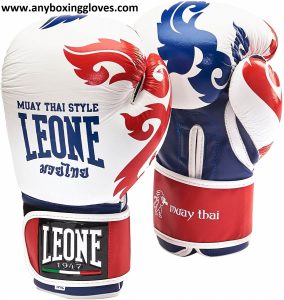 They are rightly called the "Armani of boxing gloves" because of their stylish designs, embodying various cultural elements. Their Muay Thai boxing gloves are no exception when it comes to aesthetics and quality. They are not only charming but give excellent training experience.
Pros
  Aesthetically pleasing
  High-performance Buffalo leather
  Decent padding
  Inner drawstring for a better grip
  Good ventilation
  Excellent fit
  Attached thumb
  Pocket-friendly
Cons
 Few buyers face size issues
Key Features
Made up of high-quality buffalo leather, these boxing gloves are durable and very comfortable.
The padding consists of 90% flex PU and 10% gel, thus aiding in better shock-dispersion. The better hand formation allows for easy punching and quick movements.
The Velcro closure offers much-needed wrist protection and excellent fit while ensuring comfortable wearing and removing the gloves. Once the cuff is tightened, the SAFETY-LOCK SYSTEM perfectly locks the wrist, providing double protection.
Vent holes on the palm and thumb and polyester inner lining wick away all moisture, keeping hands dry and firm.
You can choose from 3 color combinations in sizes 10 oz, 12 oz, 14 oz and 16 oz.
Conclusion
Leone 1947 are famous for their great style sensibilities and quality and are the best boxing gloves for beginners. Whether you are a kid, a teenager or an adult, looking for stylish mid-range durable gear, these gloves are not only attractive to the eyes but their comfort, technique and safety give you a lifetime experience.
FAQ's
Q1. Which gloves' brands last longer?
Most of our recommended gloves are built to last. But, the Venum Challenger 2.0 Boxing Gloves just overshadow all the others.
Q2. What weight should I get while buying boxing gloves?
You should take into consideration your hand size, body weight, and type of gloves usage. For details, please check our buying guide.
Q3. Which are the best boxing gloves to train with?
The best boxing gloves for beginners possess high quality, comfort, protection, and durability. It also depends on your type of training. Furthermore, you can check our review of Best Boxing Gloves 2021 for a better understanding.
Q4. What is the life of the right glove?
This totally depends on the glove's material, type of training, frequency of usage, and above all your maintenance of the glove.
 Q5. How to clean boxing gloves? 
You must first dry the glove by placing it in front of a fan or in the open air. You can also wipe it with a paper towel both on the outside and inside. This absorbs all the sweat and prevents bacteria. You can also spray odor-absorber to eliminate bad smells and use an antibacterial spray to kill the germs.
Q6. How heavy should my boxing gloves be?
Think about what you need them for. If you're sparring, the gloves will get less wear and tear than if they've just been sitting on your dresser! Generally, newbies should get 14-16 oz gloves, while intermediate boxers might opt for 16-18 oz. If you're training, the heavier weight will help build punching power and provide protection from impact injuries such as lacerations or blisters that could come from throwing punches at speed or high intensity without any protection!
Q7. Are 12 oz gloves good for heavy bags?
There is no definitive answer, as it depends on the person's weight and punching power. Heavier people might prefer 16 oz gloves, while those with less power might be happy with 12 oz gloves.
Buying Guide for Beginners
Each individual is different and so are their likes and needs. When choosing a boxing glove, you cannot just purchase a popular one or the one recommended by your friend. The size and type of glove that your friend likes need not be equally suitable for you. Simply put, what is best for some need not be best for others.
Your age, hand size, training type, frequency of usage, affordability, etc. are some of the important factors to consider while choosing the best boxing gloves for beginners.
Types of Gloves
There are hundreds of gloves in the market, each having a few similar and unique features. It is imperative to know the type of glove you need so that you make the best purchase. Following are some guidelines to help you choose the right kind of gloves:
For Sparring, you will need heavy gloves with thick padding (14 oz and above)
Flexible gloves will work for Martial Arts
You will require bag gloves with thick padding for heavy bags and mitt drills,
For multiple types of training, look for an all-rounder training glove
P.S.: We recommend beginners start with multi-functional training gloves unless they are opting for specific training.
Size
The best way to get started is to measure your hand and select your glove size. The size should be checked with hand wraps on for a better comfortable fit. The glove's unit of measurement is an ounce or oz. and the most common sizes are 8 oz, 10 oz, 12 oz, 14 oz and 16 oz while a few may go up to 18 oz. Sizes help us determine our glove weight suitable for our chosen training.
8-10oz Gloves are very lightweight and suitable for competitions
10-12oz Gloves are relatively light and work forPad work and general training (not for Sparring)
14-16oz Gloves are ideal as they've enough padding without being too heavy
18oz Gloves are heavy gloves and are more suited for hard-hitting or for improving hand speed.
Right fit
When you choose a pair of gloves, they must feel well-fitted and comfortable. They should perfectly fit your hand, wrist and fingers. They should be in alignment with your hand's shape, and you should be able to make a fist easily. Most of the gloves require a break-in period and adjustment after a few sessions.
Quality
The quality and material of the gloves are significant factors. Gloves are usually made up of original or synthetic leather. An authentic leather exterior with reinforced stitching promises durability and withstand heavy-hitting. It also molds your hand's shape for a better fit. Synthetic leather is not as durable, flexible and breathable as original leather. However, it is cheaper and usually used by kids or adults opting for light training.
Breathable mesh around the palm is also essential as the moisture-wicking inner keeps the hands dry and ventilated.
Amount of padding
The amount of padding is a very important factor while buying the best boxing gloves for beginners. The quantity of padding on the gloves depends on the type of training you are indulging in. Thick padding in the right areas determines how effective the gear is at lowering the impact caused by your punches and your hand protection. Beginners are advised to go for big-size gloves that have thick padding and better knuckle protection. The reason is, as they are not trained, they may throw punches with improper form, and hence injure themselves.
Closure option
Gloves have either lace or Velcro hook and loop closure options. Velcro is the best option for beginners as they are easy to adjust by yourself and offers a snug fit and better wrist support.
Laces offer better wrist support and a snug fit. However, you always need external help for tying them up. Thus, they are mostly exclusively used by professionals.
Money
It is not recommended for beginners to invest a handsome amount in their starter gloves. However, few amateurs make the mistake of investing very less, thus buying low-quality gear which gives them discomfort and injuries. This only costs them more down the road. Since boxing is a combat sport, it requires sturdy and durable gloves.
Points to remember:
Beginners are recommended for All-purpose training gloves as starter gloves.
All gloves have a break-in period and will gradually conform to your hands. So, don't give up.
Let the gloves dry after use and clean them regularly.
Always wear hand wraps when hitting a heavy bag or mitts
Final Thought
Choosing the best boxing gloves for beginners is tricky. Everyone has different likes and requirements, and they are opting for various types of training. A glove that balances quality, functionality, fit and comfort and meets your purchasing capacity requires thorough research. We have tried our best to make it more convenient for you and listed our top twelve picks from a wide variety of boxing gloves. Our buying guide will also thoroughly explain all the factors that will help you make the right decision. We wish you the Best of luck in finding the perfect pair for you.