Before we recommend you the best boxing gloves for sparring, let us explain briefly the concept of sparring. Sparring is a 'fight practice' for Boxing and Muay Thai, in which you throw punches at your partner and practice real boxing techniques of attack and defend.
While you can start your basic boxing training from mitt work or heavy bag punching, nothing can compete with an actual combat experience of sparring. Sparring not only improves your techniques but also builds your stamina, self-confidence and physical/mental health.
Our Top Picks
High-End
Everlast Protex3 Evergel
Budget Friendly
Ring to Cage C-17
BEST BOXING GLOVES FOR SPARRING
In sparring, you should treat your sparring partners well so that you get the same in return. The care for your partner starts even before the first punch is thrown by selecting the right equipment that will protect you and also your partner from injury. High-quality boxing gloves, inserts/ hand wraps, headgear, and mouth gear play a vital role in sparring.
Many amateurs take the gloves lightly and use any low-end glove for sparring which can cause injuries to both you and your partner. One should use the best boxing glove for sparring that has soft cushioning, ample padding and attached thumb to avoid sprains and bruises. A great sparring glove absorbs the impact of hard punches as well as ensures comfortable movements of wrists and fingers required in accomplishing fighting techniques.
Many companies are now focusing on increased users' awareness and requirements and have designed specialized gloves to meet customers' needs. Today there are many superb sparring gloves in the market. These gloves are available in different features and sizes. We realize that sparring is demanding training and requires the best boxing gloves that you can afford. Following are our carefully selected top ten sparring gloves with different features and price- ranges but one common thing….. QUALITY.
| Boxing Gloves | Ratings | Price |
| --- | --- | --- |
| Winning MS-500 Boxing Gloves | ⭐⭐⭐⭐⭐ | |
| Venum Elite Boxing Gloves | ⭐⭐⭐⭐⭐ | |
| Rival RS1 Ultra Sparring Gloves 2.0 | ⭐⭐⭐⭐⭐ | |
| Ringside Apex Flash Sparring Gloves | ⭐⭐⭐⭐⭐ | |
| Fairtex BGV5 Sparring gloves | ⭐⭐⭐⭐⭐ | |
| Ring to Cage C-17 Training Gloves | ⭐⭐⭐⭐⭐ | |
| Anthem Athletics Stormbringer II Boxing Gloves | ⭐⭐⭐⭐⭐ | |
| RDX S5 Sparring Gloves | ⭐⭐⭐⭐ | |
| Everlast protex3 Evergel Hook and Loop Boxing Gloves | ⭐⭐⭐⭐⭐ | |
| Valour Strike Premium black Sparring Gloves | ⭐⭐⭐⭐ | |
Winning is a leading boxing gloves brand used by virtually every professional boxer.
Their top-notch MS-500 gloves are ideal for sparring and other intense training sessions. Manufactured under strict quality control in Japan, these gloves have exquisite craftsmanship and ergonomic features.
Pros
High-quality leather and durable stitching
Extremely protective and comfortable
Exceptional fit
Breathable
No break-in required
Cons
Quite expensive
A bit snug hand compartment
Key Features
Crafted with the best quality leather and long-lasting seams
These gloves are often termed as "pillow" because of the multi-layer padding, which is very soft and secure and takes no time to break in. It aligns with the user's hands and gives a custom-made feel to their hands.
The water-repellent soft nylon lining provides the ultimate comfort and keeps the hands dry.
The hand compartment is a little snug for a few users.
The straight thumb is the signature feature of Winning, which allows you to make an ideal fist.
They are available in both lace-up and Velcro wrist closures which are designed to give a snug fit and maximum wrist support.
These gloves can also be customized but at an added cost.
Venum is a very innovative brand that doesn't believe in recreating what's already there but believes in change and improvement.
The Venum Elite Boxing Gloves are certainly a favorite of many because of their design, quality and excellent features offered at an affordable price.
Pros
Durable skintex leather and excellent construction
Triple-density padding
Big hand compartment
Breathable hand and thumb
Attached thumb
Excellent wrist support
Reasonable price
Cons
Small hands may slip in big hand compartment
Key Features
Made in Thailand with excellent craftsmanship and durable double stitching
Gloves are made up of 'Skintex Leather', the name Venum uses for its engineered synthetic leather. It is lasting and is soft enough to keep your sparring partner safe.
The triple-density padding provides excellent protection, longevity and shock absorption.
The hand compartment is big, and the glove allows a natural fist.
Longer cuff gives maximum wrist support and punches stability.
The mesh palm and ventilation holes keep your hand dry and odor-free.
The thumb is attached, which protects you and your sparring partner from injuries. The vent holes on the thumb also add to the breathability.
Rival is one of the favorite brands when you are looking for the best boxing gloves for sparring. Recently Rival has introduced the improved version of their crown jewel RS1, which is termed as "Rival Original" and is a choice of many professionals for the past 15 years.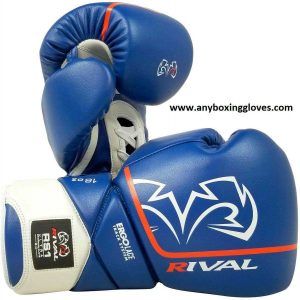 RS1 Ultra sparring glove's upgraded version 2.0 exudes the same quality, performance and durability with a new look, an ultra-resistant exterior and an excellent fit.
Pros
Appealing design and excellent construction that lasts
High-density multi-layered padding
Conic cuff provides maximum wrist support
Unique angled lace gives a tighter fit
Mid-range price
Cons
Still get synthetic leather in a $100 plus price
Will require assistance for taking on/off
Key Features
These gloves are quite good looking with super resistant microfiber exterior and double thread stitching which can bear years of abuse
High-density Multi-Layered Foam Padding and the soft lining make these gloves very protective and comfortable.
The tapered cuff design gives maximum wrist support and stability without blocking arm movement.
Rival introduced a unique Angled Lace-Track in RS1 in 2003 which provides a new look and perfect lace-up fit. The crisscrossed lace design pulls down at an angle that allows a tighter fit than conventional lace-up gloves.
Ringside is a famous name in the boxing world and needs no introduction.
Their Apex Flash sparring gloves give an ultimate sparring experience because of their high-quality, embedded innovative technology and ergonomics.
Pros
Durable and easy to maintain
Innovative IMF padding
Convenient hook and loop closure
Maximum wrist support
Pre-curved hand compartment
Attached thumb adds security
Highly breathable and odor-free
Key Features
The exterior is durable and easy to maintain synthetic leather.
The innovative Injected Molded Foam (IMF) technology is far better than the layered foam padding used in most of the same-priced gloves. It enhances the life span, protection, shock absorption, and comfortability of the gloves.
Mesh palm with vent holes provides maximum airflow, and the anti-bacterial lining inhibits bacterial growth.
The pre-curved molded hand compartment allows a natural fist.
The hook and loop closure keeps the wrists aligned and tightly secured.
Attached thumb secures the sparring experience for both you and your partner.
Wide variety of colors to choose from
Fairtex is a reputable name in the Muay Thai world because of its top-notch gloves with absolute craftsmanship and finesse.
Their BGV series has introduced many impressive gloves in the market including BGV5 which are ranked among the best boxing gloves for sparring.
Pros
Excellent leather quality
Convenient hook and loop closure
Decent wrist support
Attached thumb adds security
Highly breathable and odor-free
Lightweight
Cons
Few complaints about sore knuckles
Key Features
Hand-made in Thailand with a top grain leather exterior, the glove is sturdy enough to last for years and smooth enough to keep your partner safe.
The soft padding is very protective and distributes the impact evenly. However, it is quite dense and requires a break-in period. Intense training before breaking its stiffness may hurt your knuckles.
Moisture-wicking liner keeps the hands sweat-free.
The thumb is attached to provide maximum safety. The thumb is a bit bigger because it is well padded.
The closure is wider and larger than many gloves and gives ample wrist support.
BGV5 is comparatively lighter in weight than many sparring gloves, which helps to punch faster and block better.
They come in four different sizes which include: 12oz, 14oz, 16oz, and 18oz.
Ring to Cage has done an incredible job by introducing a low-priced alternative to the popular Winning Boxing gloves. Their C-17 boxing gloves exhibit Winning construction and features but at a lower price.
Although there is no match to the top-notch Winning, C-17 is a good substitute for those who can't afford to win. The "Japanese Style" C-17 upgraded version 2.0 is an excellent sparring glove with more durability, comfort, tapered cuffs, and impact-absorbing padding with thicker nylon lining.
Pros
High-quality Cowhide leather construction
Padding and lining are thick enough, soft, comfortable and secure
Big hand compartment makes an ideal fist
Conic cuff for better wrist support
Attached straight thumb
Winning glove's features in low price
Cons
Higher price for few
Metallic gold and silver color may fade out
Key Features
These gloves have a broader look and genuine high-grade cowhide leather construction, which is sure to last longer.
The gloves have 1.5" thick layered padding, which is very soft and secure, and you hardly feel the impact. The gloves feel already broken in so you can right away start sparring, and both you and your partner will be well-protected.
The inner nylon lining is very soft, thicker, durable, comfortable and sweat-absorbent.
Conic cuff design gives better wrist protection and fit.
These gloves have both lace-up or hook and loop closure options for better wrist support.
The hand compartment is big enough to make an ideal fist.
The thumb is attached and straight in shape, which makes it very secure.
The gloves are true to weight and come in 12oz, 14oz, 16oz, and 18oz sizes.
Hailing from the USA, Anthem Athletics has gained a trusted name in the combat sports and fitness industry since its origin in 2015.
Their Stormbringer II boxing gloves are among the best boxing gloves for sparring because of their Buffalo leather construction, triple-density foam, versatility and performance.
Pros
Unique Buffalo leather
Triple-density, high-impact foam
Breathable mesh panel
Over 25 different color designs
Reasonable price
Cons
A bit stiff during early sessions
Key Features
These gloves have premium buffalo leather construction with reinforced stitching. Stormbringer II gloves are claimed by the manufacturer to be superior to different kinds of original and artificial leather.
Triple density foam possesses a significant shock-absorbing ability and provides excellent hand and knuckles protection.
Moisture-wicking lining keeps your hands dry and firm.
The gloves may feel tight at first, but they loosen over time.
Lots of standard and custom leather colors are available
Come in 12 oz, 14 oz and 16oz sizes.
8.  RDX S5 Sparring Gloves –

(Durable cowhide leather with great protection)
RDX is a UK-based renowned company that has produced a variety of quality products for combat sports.
Each gear is given particular attention to detail. One of their best products is the RDX S5 Sparring Boxing Gloves. These gloves have an original leather exterior and offer all essential features.
Pros
Durable cowhide leather
Max-shock foam with gel lining shield the knuckles well
Ventilated mesh panel
A snug fit
30 day money-back guarantee
Cons
Size may run small for few
Key Features
Handcrafted using authentic cowhide leather which stays with you for many seasons
Low-density Max shock foam padding with gel lining gives maximum protection to your knuckles while lowering the punching impact.
Mesh lining allows air circulation and keeps the hands dry.
A wide ergo-cut Hook-and-Loop closure with an elastic band gives a snug fit and maximum wrist support.
For your search of the best boxing gloves for sparring, we have kept one of the best for last. Everlast is a world-renowned name in manufacturing top-quality boxing, MMA and other fitness equipment.
Their protex3 Evergel gloves are top-notch and include special 'Evergel Technology' which disperses the impact of your powerful punches
Pros
Durable leather construction
C3 technology provides maximum cushioning, comfort and shock-absorption
Sweat and odor-free
Wrist stabilization system
Key Features
Top-grade genuine leather is very long-lasting.
The contoured closed-cell (C3) FOAM along with Evergel technology offers maximum cushioning, comfort and shock-absorption.
The exclusive wrist stabilization system features an anatomical three-ring foam collar that keeps the wrists secure.
A removable full elastic sheath prevents you from injuries when sparring.
Presence of EverCool ventilation system and EverDri breathable lining keep your hands firm and sweat-free.
Available in 12 oz, 14 oz, and 16 oz sizes
10.  Valour Strike Premium black –

(Extremely pocket-friendly, comfortable and shock-absorbent)
Valour Strike is another name that pops in your mind if you are looking for a low-priced sparring glove.
They claim to be a caring brand that provides great products at reasonable prices with excellent customer support.
Pros
Durable and easy to maintain PU leather
Multi-layer padding is secure, comfortable and shock-absorbent
Sweat and odor-free
Wide Velcro closure provides a snug fit and wrist support
Customizable Velcro option gives the required fit
Attached thumb
Extremely pocket-friendly
Cons
Not as high-quality as other sparring gloves
Key Features
Easy to maintain PU leather which is tough and can withstand years of abuse.
Multiple layers of foam efficiently disperse the punching impact.
3-inch wide velcro hook and loop closure keep the wrists stable. Also, it is very convenient and takes no time to take on/off. For enhanced sparring performance, you can customize the fitting of the glove with the help of an extra velcro attachment.
The feature of the attached thumb keeps you and your partner secure.
Presence of a mesh palm maximizes the airflow, reduces bacterial growth and keeps hands dry.
FAQ's
Q1. Do ounces affect the size of the glove?
Yes, they do. Ounces refer to the weight of the glove. Gloves that weigh less mostly have a small hand compartment and less padding.
Q2. What is the suitable glove size for sparring?
Different boxers use different glove sizes depending on their body weight and hand size. Usually, 16 oz is the preferred weight.
Q3. Which gloves work best for sparring?
You can do sparring with almost any sufficiently padded boxing gloves, but if they are not soft and protective enough to perform as sparring gloves, you may cause injuries to you and your partner. Also, the exterior and foam padding will likely break down faster.
Q4. What gloves are best if I have hand problems?
More padded gloves with maximum knuckles, hand and wrist security should be used. Also, use hand wraps and knuckle guards for additional protection and low impact.
Q5.What is the difference between lace-up and velcro closure?
The Velcro closure is easy to put on and take off without any external help. It is a preference of many boxers as it is more convenient and less time-consuming.
Lace-up gloves are more traditional and usually used by professionals who have helpers to tie the lace. However, it gives a more secure and custom fit.
Q6. Are 16 oz gloves good for sparring?
No, 16 oz gloves are too heavy for sparring.
Q7. How can we prolong the life of a glove?
The cleaner you keep your gloves, the longer they will stay with you. Air out the gloves after every use and wipe off any excess sweat or dirt. Store them in an open, cool and dry place. Periodically use a mild lubricant or leather cleaner to keep them supple as leather can dry out and crack, shortening the life of your gloves.
Q8. Can I use bag gloves for sparring?
There is no definitive answer to this question since it depends on the type of bag gloves you are using. Some bag gloves are designed for sparring, while others are not. If you are unsure about whether or not your bag gloves are suitable for sparring, it is best to consult with a boxing coach or trainer to get their opinion.
Buying Guide
Giving respect to your partner and taking care is very important in sparring, and it all starts even before throwing your first punch. Sparring is intense and requires a durable, high-quality glove that gives maximum protection to you and your sparring partner. Following are a few factors to consider when buying the best boxing gloves for sparring.
 Material
The quality, toughness and durability of leather are very important. Usually, gloves have original or vinyl leather construction. The original leather is better and more durable, but expensive. Vinyl or synthetic leather is easy to maintain and affordable but does not last as long as the original one.
A mesh fabric or breathable palm area is very important for comfortable training. These fabrics keep the gloves ventilated, sweat-free and reduce bacterial growth.
Protection
Padding is one of the most important factors when buying sparring gloves. Multi-layered foam or Gel-infused padding has better security and shock absorption. Softer padding is a must for sparring because it doesn't harm your partner much when you land good powerful strikes.
Wrist protection and its stability are also essential, and sparring gloves should have extra padding around the wrists. Snugly fitted gloves keep the hands firm and avoid slippages which may cause sprains and injuries. The attached thumb is another feature that helps in preventing bending of your thumb backward and also protects your partner.
Size
The size of the gloves depends on the boxer's body weight, hand size and training type and frequency. The most used glove size for sparring is 16oz.
Closure options
Most gloves have either velcro or lace-up closing options. Velcro gloves are easy to pull off and put on. However, velcro can sometimes bruise your opponent's face or even your arm.
Many professionals prefer lace-up gloves because of their tight custom fit. However, these gloves require external help to put on/off and consume time.
Exclusivity
The gloves you choose for sparring should strictly be one-purpose. As their padding is soft, it is likely to break down if you use them for other training as a heavy bag or mitt drills. The bare knuckles can cause severe injuries to you and your partner.
Final Thought
Sparring gives you the flavor of real-world combat in a controlled environment where you practice your skills and techniques with your partner. We have tried to facilitate you in deciding the best boxing gloves for sparring that will stay longer and provide maximum protection to you and your sparring partner. We hope that our picks have eased your search and guided you to choose the best that suits your needs. Each glove mentioned above represents a well-reputed brand with durable and high-quality construction and all ergonomic features required for sparring.