Females who take up boxing seriously are always looking for the best boxing gloves for women to serve the purpose well. There is an apparent difference between male and female body structure and size. Most women have smaller hand sizes and narrower palms as compared to a man. Although there are many "unisex" boxing gloves in the market with small hand compartments, most of them are ill-fitted for women.
Many manufacturing companies have realized the emerging interest of females in boxing, which consequently is increasing the need for female boxing gear. Hence, brands are now designing gloves, especially for females' small and narrow hands and wrists.
Our Top Picks
Best Boxing Gloves for Women
Over the past years, boxing has become very popular among females. Although it is an aggressive and dangerous sport, women are taking a keen interest in it. Many have selected boxing as a serious profession, while others have adopted it as their new fitness tool. If you are one of those strong and daring women, we are here to motivate and guide you through your important selection of best boxing gloves.
Boxing puts a lot of stress on hands and wrists, so high-quality, thick-padded, and well-fitted gloves are essential. Many brands offer Unisex gloves, which have excellent quality and padding. We have discussed a few of them in detail in our Best Boxing gloves. These unisex gloves are supposed to fit both genders but many female boxers find these gloves too loose because of the big hand compartment, or there is a lack of sufficiently tight wrist support.
Although hand sizes may vary in the same gender, research has shown that even if the same size, women's palms are shorter and narrower than men. Considering the difference, many brands are now offering women-specific boxing gloves in a variety of colors and sizes, keeping individual needs and women's aesthetics in mind. Following are our ten picks of best boxing gloves for women:
| Boxing Gloves | Ratings | Price |
| --- | --- | --- |
| Everlast Women's Elite Pro Style | ⭐⭐⭐⭐⭐ | |
| Ringside Women's Cut IMF Tech | ⭐⭐⭐⭐⭐ | |
| Fairtex Microfibre BGV14 | ⭐⭐⭐⭐⭐ | |
| Cleto Reyes Hook & Loop | ⭐⭐⭐⭐⭐ | |
| Adidas Hybrid 100 Dynamic Fit | ⭐⭐⭐⭐⭐ | |
| Rival RS2V-W | ⭐⭐⭐⭐⭐ | |
| Everlast Women's Powerlock | ⭐⭐⭐⭐ | |
| RDX F15 Noir | ⭐⭐⭐⭐⭐ | |
| Pro Force Leatherette | ⭐⭐⭐⭐⭐ | |
| Elite Sports Boxing Gloves | ⭐⭐⭐⭐ | |
Everlast is one of the leading manufacturers, marketers, and licensors of boxing, MMA, and fitness equipment. Their Pro Style Elite Training Gloves are the upgraded version of the regular 'Everlast Pro Style' training gloves.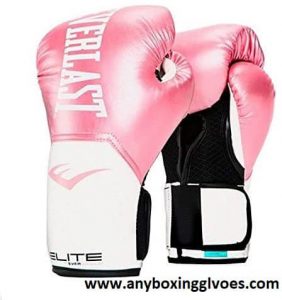 Elite Pro Style with WSD (Women Specific Design) has been developed specifically for female athlete's hand and wrist. The glove has excellent functionality and design at a reasonable price.
Pros
Durable synthetic leather
Comfortable
Hourglass-shaped wrist
A snug fit
Ventilated palms
Lightweight
Affordable
Cons
Not as durable as the original leather
Limited color choice
Key Features
The gloves are made up of premium synthetic leather construction, which offers durability.
The material has a nice, smooth finish to it
Closed Cell Foam technology protects the hands while the grip cord provides a firm hold.
Evercool mesh palm allows ventilation and keeps the hands dry.
Hourglass-shaped wrist with Evershield padding provides the ultimate comfort, fit, and support.
Hook and Loop closure keeps your hands steady. It has been intentionally designed small instead of the big wraparound strap and is fairly strong.
They are excellent for a workout or heavy bag training but not recommended for sparring.
Available in two colors in 8 oz and 12 oz sizes
Ringside has earned its reputation as one of the world's largest and most dependable suppliers of boxing equipment. Although Ringside is famous for its men's boxing gears, its Women's Cut IMF boxing gloves have gained popularity.
These gloves are very sleek and cater to all women's requirements. These smaller gloves are one of the best boxing gloves for women and are packed with plenty of power, and the Injected Molded Foam (IMF) padding adds extra protection and comfort.
Pros
Beautiful textured Leather lasts longer
IMF padding guarantees protection and comfort
Excellent shock-absorption
Mesh Ventilation
Offers a snug fit
Cons
Takes time to break-in due to stiff wrist strap
Key Features
They are made with a beautiful amalgamation of leather and vinyl, which is aesthetically pleasing and lasts longer. The stitching is also neat and sturdy.
IMF padding provides the ultimate comfort and protection while reducing the impact. Although smaller in size, these gloves are no less than 16 oz sparring gloves in power and impact-dispersion.
The 4 inches wide wraparound Velcro keeps the wrists firm. However, the wrist strap is a bit stiff and needs break-in time.
The exclusive vinyl overlay webbing on the inside of the glove provides additional shock absorption during hard-hitting.
The attached thumb construction places your thumb firmly and avoids injuries.
The moisture-wicking mesh keeps the hands cool and dry.
Available in two color options in sizes 10 oz and 12 oz.
3.  Fairtex Microfibre BGV14 –

(Lighter in weight with great ventilation)
Fairtex has become very popular over the past decade. BGV is arguably their most popular boxing gloves series on the market, having more than ten boxing gloves.
BGV14 is one of their top gloves used by most women because its fist pocket is on the small side, and the wrist wraps can be tightened.
Pros
Durable, authentic leather
Sufficient padding and in the right places
Internal grip bar allows a tight fist
A Snug fit due to large Velcro
Attached thumb prevents injuries
Great ventilation
Versatile
Cons
Padding is a little thin in few areas
A bit expensive for beginners
Key Features
Original leather construction lasts for years.
The padding offers an excellent hand and knuckle protection and is shock-absorbent.
BGV14 is not very soft, but it is also not as tough as other BGV models. The soft padding easily stretches and allows better clinching and grappling
Ergonomic hand compartment provides a tight fit and is suitable for female hands.
The attached thumb protects you and your sparring partner from injuries, and hence, these gloves are suitable for sparring besides heavy bag and mitt drill.
The internal grip bar allows a firm hold and keeps a tight fist.
The larger and bigger Velcro strap provides more stabilization and wrist support.
Palm comes with 15 ventilation holes allowing sufficient air circulation.
Come in a vast range of colors and designs
Cleto Reyes is a very trusted name when it comes to boxing. Their gloves are designed with the finest craftsmanship and highest quality material handmade from Mexico.
The Hook and Loop Gloves are among the best boxing gloves for women with the embedding of 2-inches latex in the palm area for maximum protection of hands and knuckles. Although they are expensive, they are worth every penny for the quality, comfort and protection they provide.
Pros
Durable goatskin leather
Thick padding provides comfort and protection
Great ventilation
Attached thumb
Allows easy adjustment
Versatile
Cons
A bit expensive
Long break-in time
Key Features
Made up of fine goatskin leather and guarantees many years of use
Ergonomically shaped to cover most female fists
The long-lasting 2-inches latex foam in the palm cage provides comfort and safety.
The water repellent lining prevents moisture from entering the padding and keeps the hands dry even during intense sessions.
The unique thumb design prevents the thumb from spraining and also protects your partner if sparring.
The handmade hook and loop closure provides a firm and faster adjustment of gloves.
It can be used for all kinds of training, from sparring to a heavy bag.
Only in pink color.
Adidas is a very reputable name in the sports world and manufactures many top-notch sports products.
Their Hybrid 100 Dynamic Fit Gloves have been specially designed for women and can also be used by men with smaller hands.
Pros
PU leather lasts longer
SDX molded foam padding delivers protection and comfort
Excellent shock-absorption
Compact hand cage
ClimaCool technology for ventilation
Velcro closure supported with an elastic strap
Can be used for various training types
Key Features
Engineered PU Leather construction is very tough and durable
The Perforated high compression SDX molded foam consists of one piece of foam from the fingertips to the end of the wrist. It does not break down prematurely and effectively diffuses the impact of powerful punches, keeping your knuckles and fist safe.
The full satin nylon inner lining with ClimaCool technology is very comfortable and breathable and keeps your hands cool.
A compact Hand compartment with longer fingers is designed to keep a female's hand size in mind, which keeps hands firm.
Velcro closure is wide and supported with an elastic strap, which provides full wrist support and a snug fit.
This glove is multi-purpose and can be used for various training types.
Based in Canada, Rival Boxing is one of the emerging boxing brands in the world.
Through innovative construction choices and commitment to quality and performance, Rival has manufactured many top-ranked boxing gloves. Rival RS2V-W is their best boxing gloves for women that offer both durability and functionality.
Pros
Durable full-grain leather
Over 40mm of foam padding delivers protection and comfort
Excellent Ergo Xtreme Strap System with double Velcro closure
Semi-broken in
Cons
Hard to put on / off by yourself due to double strap
A bit expensive
Key Features
RS2V-W sparring glove has full-grain leather construction with strong, durable stitching and catchy flower graphics. The leather is sturdy and can bear abuse for many years. Although a bit expensive, these are quality gloves that not only look good but also perform better.
Over 40 mm of Layered Foam Padding is designed for sparring but can also be used for bags. The Ultra soft laminated lining adds on the comfort.
The gloves are semi-broken in, which is a perfect blend of soft enough to spar right away yet firm enough to protect the hand, offering maximum comfort.
Ergo Xtreme Strap System is what Rival calls its dual Velcro closure. The velcro straps are on one side of the glove and overlap each other for a tight closure. Although the double strap gives a more secure fit, it is hard to put yourself on / off.
The hand compartment is wide and gives you room to wrap up your hands without feeling tight.
The thumb's size and shape are short, wide, and rounded, which gives enough room to grip it.
Available in 12 oz, 14 oz, and 16 oz.
Color: Black / Pink
Today's women want more than just pink and Everlast Powerlock gloves rightly deliver what is needed.
The WSD (Women Specific Design) helps the Everlast Powerlock achieve impressive comfort, balance, optimal fit and protection for female athletes.
Pros
Durable Synthetic leather
5-layer foam padding delivers protection and comfort
Powerlock technology keeps hands in a natural fist position
Thumblok technology
Easily break-in
Affordable
Key Features
These gloves are made up of synthetic leather for durability.
The compact design provides speed, balance, better punches, and a snug fit.
The gloves feature the power lock technology, which means that the molded 5-layer foam padding locks your hands in a natural fist position, ensuring comfortable and safe strikes.
Featuring the ThumbLok technology, the gloves offer better protection of your hands and especially the thumb.
Velcro straps adjust the gloves for a secure fit and support your wrists.
Ideal for heavy bag workouts, sparring and mitt work
RDX is a leading British Combat Sports and Fitness brand, which makes some of the highest quality and reasonably priced gloves on the market.
Their Noir series is quite popular with its full black minimal look. RDX Noir F15 is an all-rounder glove claimed to be indestructible with its ergonomic features and takes your training experience up a notch.
Pros
Durable Synthetic leather
Shock-resistant EVA padding
Protective and Comfortable
Ventilated and bacteria-free
Easy to wear
Affordable
Key Features
These matte black boxing gloves are constructed with ConvEX Skin Combat Leather exterior, which doesn't give up against the hard-hitting.
Layers of shock-resistant EVA padding protect the hands while the Quadro-Dome™ mold diffuses the impact evenly.
Quick EZ hook-and-loop strap is wrap-around and gives a firm alignment and quick adjustment.
D-Cut Nylon meshes palm offers maximum airflow keeping hands ventilated and dry.
Anti-microbial inner lining is sweat-absorbent and keeps the gloves bacteria and odor-free.
ProForce is the flagship brand of AWMA, one of the leading providers of combat sports equipment since 1972. Headquartered in the historic boxing city of Philadelphia, Pro-Force offers a variety of Combat sports gear.
These ergonomically designed boxing gloves are made from high-quality materials. Pro-Force Leatherette boxing gloves with white palms are rightly one of the best boxing gloves for women as they are lightweight, multi-purpose, and give a snug fit. Their customizable feature makes them a favorite of many females as they can reflect their individuality and style in their gloves.
Pros
Durable synthetic leather with double seam
Pre-curved form with a flex grip palm
Ventilated and bacteria-free
Thumb-Lock feature
Lightweight
Multi-purpose
Budget-friendly
Customizable
Cons
Big hand compartment for a few
Key Features
These gloves are made up of high-quality synthetic leather with double and persistent seams and promise durability and resilience.
Its pre-curved form-fit design along with a flex grip palm provides protection and secure hand and wrist alignment.
The foam core with cotton lining makes the punching experience very smooth.
Ultra cuff wrist strap with hook and loop closure gives maximum wrist protection and fitting.
The Thumb-lock feature secures the thumb and offers proper form while punching.
These Gloves have vent holes to keep your hands free from sweat and odor.
They are multi-purpose and can be used for boxing, martial arts, cardio, and other fitness workouts.
Customizable options include custom gym logos, fighter names, custom color schemes, and complete custom designs.
Comparatively new to the boxing world, Elite Sports is a California-based combat sports brand coming gradually into the limelight.
They are offering a lot of products at very reasonable prices, their boxing gloves being no exception.
Pros
Durable Maya hide leather
Pre-curved anatomic hand design adds safety and functionality
Triple-density gel and impact foam
3D Cooling Mesh
Shock-absorbent
Velcro wrist closure with a stretchable leather wrist strap
Lightweight
Affordable
Cons
Few complaints about stitching
Key Features
Made up of Maya hide leather, which lasts longer
Pre-curved anatomic hand design helps make a natural fist and allows you to focus more.
The 3D Cooling mesh palm, along with anti-microbial lining, is highly ventilated and minimizes bacteria growth.
The triple-density gel injected foam padding is concentrated mainly over the knuckles area while it lacks over the thumb and the back of the hand, so we cannot use it for sparring. However, the padding is rightly placed on impact areas, which makes it shock-absorbent.
The stretchable Velcro closure helps to tighten the gloves around the wrists and can adjust to different wrist sizes.
The lightweight of the gloves enhances speed, focused mind, and performance.
These gloves are all-rounder and ideal for all types of sports like boxing, kickboxing, heavy bag, and other fitness workouts.
FAQ's
Q1. Are Women's Boxing Gloves Different From Men's?
There is no significant difference in basic features. However, most women require gloves with a small hand compartment as their hands tend to be narrower than men. Also, few women prefer lightweight gloves.
Q2. Is it necessary to wrap your hands underneath the gloves?
Yes, it is a must as it gives extra protection. If not done, you may damage your knuckles, thumb, and wrists.
Q3. What would be the best boxing glove size for women?
There is no fixed size as different women have different hand and wrist sizes. Choose a glove that fits you well and allows flexible movements, without slipping off as you box.
Q4. Why are a few gloves so costly?
Quality of the gloves, material used, labor costs, equipment, packaging, delivery, and advertising, all add to the value of the gloves, making them quite expensive.
Q5. Should I use 14 or 16 oz boxing gloves?
Since you're a beginner, I recommend 14 oz boxing gloves. 16 oz boxing gloves are often recommended for more experienced boxers who want a heavier bag or train with a partner.
Q6. What is the difference between 10oz and 12oz boxing gloves?
In boxing, a 10-ounce glove is generally used by professionals and amateurs in competition because it provides a slightly better punch. The weight refers to the weight in ounces of leather or vinyl wrapped around a person's fist before fastening the velcro strap.
The higher the ounce number, the heavier the weight. So you would use 12-ounce gloves for sparring and 16-ounce gloves for large bag work, where you can absorb more punches from larger bags without getting hurt yourself.
Buying Guide
To protect your hands and wrists when hitting a heavy bag or during any other type of boxing, a pair of well-fitted, protective, and comfortable gloves is essential. While buying the best boxing gloves for women, one needs to look for the same features as required by any man. There has been a detailed buying guide in our other review of best boxing gloves for beginners, where the factors have been discussed in detail. Below is a quick recap of features that women need to consider while looking for the best boxing gloves:
Quality
Quality of the glove is essential as high-quality gloves are more protective and comfortable and last for many years. Authentic leather construction is better, but there are so many quality gloves out there that use synthetic leather but are still durable and tough. Another fact to note is that original leather comes in a higher price range.
Purpose
Different gloves serve various purposes. A heavy bag glove has dense foam that protects your hands against hard punches. A sparring glove is soft with enough padding at knuckles so that you do not injure your partner. However, if you are using gloves for various training types, we recommend training gloves, which are all-purpose gloves.
Size & Shape
The basic difference between men's and women's boxing gloves is the hand size. Most women tend to have smaller hands and narrower palms and wrists than men. Hence, the hand cage that directly cradles your palm is often smaller in women's boxing gloves. While buying gloves for a female, it is important to consider that the glove's size should contour their natural built and allow a natural fist without uncomfortably bending the hands.
As far as the glove weight is considered, the key is that the larger the weight, the more padded is the glove. 12 – 14 oz is a pretty standard size for women, as they are padded enough to use with heavy bags and for sparring. 10-12 oz gloves are not very padded but are suitable for speed and mitt drills and are prevalent in different fitness classes, including kickboxing or cardio kickboxing.
Many women's boxing gloves have a different shape from standard gloves. They are made much narrower at the wrist, forming a "cone" or "V" shape.
Protection & Fit
The padding should be durable and thick enough to protect your hand and disperse the punch impact, yet comfortable and flexible so that you can easily make a fist.
For maximum hand protection, it is essential to wrap the hands and wrists properly to avoid strain and injuries as women are more delicate than men.
Many professional fighters opt for a lace-up glove for a snug fit when it comes to closure. However, most women prefer a Velcro closure because it is the most convenient and easy to put on / off.
Ventilation
The gloves should have moisture-wicking and airflow features to keep the hands sweat-free and the gloves odor-free.
Final Thought
Over the past few years, there has been a tremendous rise in the interest and participation of females in boxing sport. In the fitness world, many box-fit studios use boxing in various forms in fitness/self-defense classes.
The new era has given birth to powerful women who not only participate in male-dominated sports but also demand the gears designed especially for them. It is high time that manufacturers stop satisfying women with unisex gloves or introducing the male featured gloves in pink color with some fancy graphics. Women of today need quality, ergonomics and functionality more than just pretty.